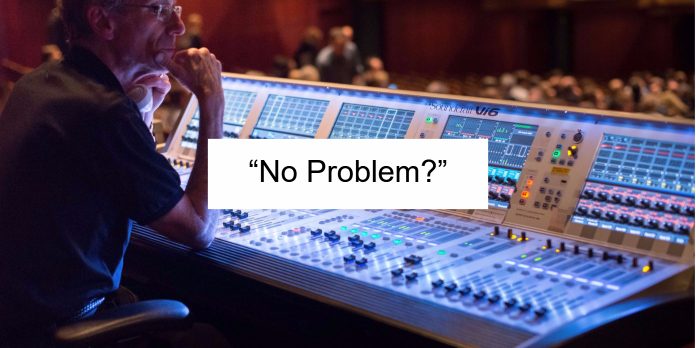 A while back William Safire, in his "On Language" column in the New York Times magazine, commented on the shift from "You're welcome" to "No problem"
as a response to "Thank you." Actually, one of the places where I hear the "no problem" locution most often is from restaurant serving persons, where it is said not in response to a "thank you," but rather in response to a request like, "And I'll have the meat loaf special."
There is something eerie about the shifts in the standard responses from waiters and waitresses. The phenomenon has almost led me to hypothesize that there is some organized national conference call for people who work in restaurants, where every two years they decide it is time to change their standard responses to what customers request. The language seems quite uniform, whether in Houston or Cedar Rapids or Newark. Nor is it confined to a culinary-class level; the waitress at Denny's seems to abide by the same current rule as the waiter at Le Petit Bistro.
There was a time several years ago when, having heard your preference, the server would say "Excellent choice!"–whether you ordered oatmeal with sliced bananas or eggs benedict. Then–seemingly after some national consultation–there was a shift to "You've got it!" Then for a brief time the standard response was "Absolutely." Now it is "No problem."
I am especially interested theologically in the contrast between "You've got it" and "No problem." The former has the feel of realized eschatology, which is how we designate the "already/not yet" tension in our hope for the Kingdom. The fullness of the Kingdom is not yet, but it is already here in terms of signs and first fruits. To be told that I already have my French toast, having just that moment expressed my preference, is apparently intended as a promise of hope. While I do not yet see the French toast, I can be confident that it will soon appear.
"You've got it" is of course a statement about the person being addressed. The serving person is offering a word of assurance and encouragement. In contrast, "No problem" is more about the server and the folks in the kitchen to whom he will be giving the order. In asking for French toast, you can be assured that you have not inconvenienced them or presented them with a challenge that is too difficult for them.
Okay, I have to say–because sometimes people fail to understand my tone in saying things here–that this is a bit tongue-in-cheek. But for all of that, there is something instructive about a service industry that moves from "You've got it" to "No problem." And there is something indicative about a Christian community that makes a similar shift. "You've got it" can be an expression of a name-it-and-claim-it theology when it is preached to people who are longing for healing or financial stability or restored relationships in their families. But it can also be an already/not yet assurance, a word of encouragement for folks who need to know that they are already surrounded, in spite of serious trials and tribulations, with signs of God's promise that a better Day is coming.
"No problem" is seldom a healthy Christian message. The world is full of problems and we ought to face them honestly. Serving others is no easy thing if we are really willing to enter into their lives. Solutions do not come easily.
Recently someone brought me a complaint about being badly treated by Fuller on some matter. They wanted me to offer a solution. I could not simply say, "You've got it." Nor could I say, "No problem." What I said was, "I'll get back to you." That probably is not a good response to my ordering French toast at Denny's. But neither are the more standard responses.
If there really is a conference call for all of those restaurant folks every two years, I hope that this time around they will have an extended serious conversation about what is appropriate to say when someone chooses something from the menu. Maybe the rest of us could learn from what they decide!
8 Comments »
---

---

---

---

---

---

---