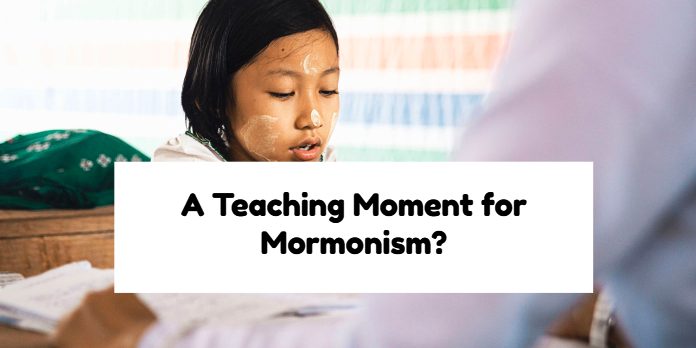 Some commentators are saying that it is time for Mitt Romney to give a "Houston speech," although there are also reports that several of Romney's key advisors oppose the idea. I tend to agree with the advisors, but not because I think there is nothing important to say about Mormonism and public leadership. I'm just not convinced that Romney is the one to offer the explanation. It has to come from the LDS leadership.
The allusion to Houston, of course, refers to the speech that John F. Kennedy gave to a group of Protestant pastors at a crucial point in his campaign for the presidency. When Kennedy ran for president in 1960 there was much opposition from the Protestant leadership. Norman Vincent Peale, for one, in a rare political statement, warned against a Roman Catholic in the presidency. But Kennedy put many of the worries to rest when he told the gathered pastors in Houston that he refused to believe that he was automatically barred from the presidency on the day of his baptism.
The fact is, however, that the Kennedy position did not really solve the problem. The real objection was that there was something basically incompatible between Catholicism and American pluralistic democracy. What Kennedy was clearly implying in his Houston address was that he would not be influenced by his Catholicism, which actually reinforced the notion that Catholicism was intrinsically incompatible with democratic values. The real work on this subject in the American context was done by the brilliant Jesuit theologian John Courtney Murray. His basic position is laid out in his classic work, We Hold These Truths: Catholic Reflections on the American Proposition (published in 1960 and still in print as "A Sheed & Ward Classic"). Murray drew on specific themes in the Roman Catholic tradition to lay out an understanding of how Catholicism could in fact be seen as encouraging democratic pluralism without sacrificing its basic convictions.
Murray's story is a fascinating one. He got in trouble with the American Catholic hierarchy for his political views, and was forbidden to publish further on the subject. But then in 1962 Pope John XXIII called the Second Vatican Council, and when in the fourth session, begun in 1965, the bishops addressed the questions of religious freedom and democracy, they called Father Murray to Rome and his views became the basis for the new positions of the Roman Catholic Church—as laid out, for example, in the Council's document Dignitatis Humanae. Today, while there obviously continue to be some tensions between Catholic teachings and widely accepted practices such as abortion-on-demand, few people claim anymore that there is something fundamentally incompatible about a Catholic political leader in a democratic society.
The Mormon leaders owe us a similar kind of rationale for Mormon public leadership. It is regrettable that the most folks can hope for from Romney is that he would say that his Mormon views will not influence his public leadership. And, frankly, by remaining quite silent on the subject of Mormonism and democratic values, the LDS leaders look like they are encouraging this verdict. Not only is that unhelpful to Romney's cause, but it is a failure to take advantage of an important "teaching moment" for Mormonism.
Here is what I think should happen. In the near future the LDS leadership should sponsor, very privately, a Vatican II-type project on the question of a Mormon theology of democratic pluralism. They should appoint a Mormon scholar to do the John Courtney Murray thing—he or she should actually read Murray, along with the relevant Vatican II documents, to get some clues about what the big questions are that need to be addressed. It would be great if the scholar could draft something and invite some others, including some non-LDS scholars, to refine the perspective. And then the LDS leadership can turn the basics into an official document on, say, "Mormonism, Pluralism and Democratic Values."
Since I am already meddling, I will push the point even further. What Murray did for Roman Catholicism was to show that there were themes in traditional Catholic thought that could be adapted for the sake of a robust defense of American political values. In Roman Catholicism this was an important strategy, since the Catholic tradition places a premium on the idea of "organic development" of its doctrines: anything new has to be shown to be an "organic" outgrowth of past teachings. The favored image here is botanical: the relationship of a "new" doctrine, such as the Immaculate Conception of Mary, has to be seen as connected to an older doctrine, such as the Virgin Birth of Jesus, as a flower is to the seed out of which it grew—the flower was already "there," implicitly or potentially, in the seed.
Mormon theology has a challenge to overcome in this area if it is going to make its case, and the challenge has to do with the primacy of the prophetic office in Mormonism, in contrast to Catholicism's primacy of the teaching office (magisterium). Father Murray could argue that all he was doing was drawing out implications that were "organically" implicit in Catholic teaching all along. The standard non-LDS reading of Mormonism, however, is that a similar move is not possible for the LDS. Here I am talking about popular impressions which go like this: anything new in Mormonism does not have to be shown to be organically related to any past teaching. To the outsider it looks like on one day polygamy was fine, and the next day it wasn't. Similarly, on one day blacks were inferior, and then the next day they weren't.
To put it crudely, the common (and I think uninformed) worry is that if a Mitt Romney were president, suddenly the Mormon church would come up with a new position that contradicts its past commitments and Romney would have to knuckle under—even though there would be no rationale for the new view except that it has now been "revealed" to the holders of the prophetic office.
If there is a plausible Mormon alternative to this widespread picture of Mormonism, it needs to be spelled out theologically and made explicit in a clear pronouncement about the role of Mormonism in a pluralistic democracy. It is time for the LDS leadership to see the present situation as an important teaching moment. And in formulating their teaching on this subject, they would do well to draw on the wisdom that is available in historic Christianity, especially the resources available in Catholic social thought.
6 Comments »
---

---

---

---

---