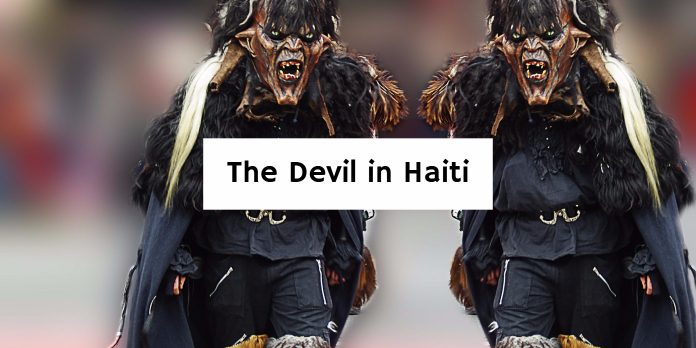 The commentators are still letting Pat Robertson have it over his suggestion that somehow Haiti had the destruction coming because of that nation's "pact with the Devil." And Robertson deserves the criticism. Much of the negative commentary, however, doesn't get at the real problem with Robertson's theology of Satan. I'm sure the Devil is happy with what has been happening in that desperate country. What Robertson does not realize, however, is that Satan's "pact" there is many-faceted. And this distorts his understanding of how God deals with Satan's tactics.
It has been said that Haiti is 95% Catholic, 5% Protestant—and 100% voodoo. The percentages in that assessment may be a bit off, but there is no question that voodoo-ism is a major reality in Haiti's culture. And, given my theology, I'm sure that this pleases Satan.
But the Devil also works in other ways as well. Haiti has long been held in the grip of an oppressive political system that has fostered one of the worst economic systems in the world. The poverty of Haiti is beyond comprehension to those of us who live with the comforts of a place like North America. All of that too must make Satan happy. In politics and economics too, we wrestle with principalities and powers.
Haiti's desperate political-economic misery grieves the heart of Jesus. My wife and I heard that message in a poignant way when we visited Haiti in the early 1980s. We were traveling in a van with some Christian Reformed relief workers on the route from Port-au-Prince to Cap-Haitien. It was a hot day, and the road was rough. At one point, driving through some hills, we pulled over to get some water from a spring at the side of the road.
It seemed like a remote spot, but suddenly a group of six children appeared. They spoke pleadingly to us in Creole, obviously asking for money. We had been told by our Christian Reformed hosts not to respond to those requests. Wherever we had gone in towns and cities, we were surrounded by pleading faces and outstretched hands, and we had learned simply to shake our heads and move along.
That's what we attempted there at the side of the road, but one young man—a boy about 11 or 12 years old—would not let us dismiss them so easily. He had detected that one of our hosts spoke Creole, and he stood tall in front of his group of friends and launched an oration, passionately gesturing angrily toward our group. Our host listened carefully, and then at a certain point smiled, reached into his pocket and gave the young man some money to distribute to his friends.
"What happened there?" I asked the Christian Reformed relief worker when we closed the doors of our van. "The kid preached a brief but eloquent sermon to me," he said with a grin. "He said that his priest had been teaching them that Jesus cares about the poor, and that those who refuse to respond to the needs of the poor are not friends of Jesus, but are agents of the Devil."
I wish Pat Robertson could hear that kind of sermon from a Haitian kid. It would give him a clear picture of how Satan is at work in Haiti and what it means to line up with the cause of Jesus. God is indeed upset about Haiti's "pact with the Devil." But sending earthquakes to make life even worse for kids like those we met at the side of the road is not God's way of countering the work of his Enemy.
10 Comments »
---

---

---

---

---

---

---

---

---