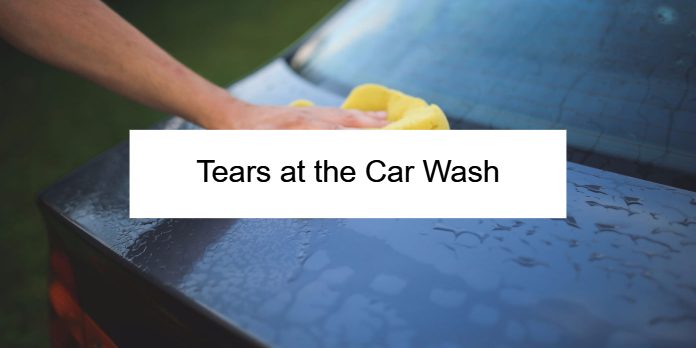 I think there have been only two times that I have spent more than a minute watching Jerry Springer. One occasion was at a car wash and the other at a place where I took my car for an oil change. In each case it was pretty much unavoidable–I had to spend 20 minutes or so in a waiting area where the TV was blasting and it was impossible to ignore the goings-on. And in both cases I had to choke back a few tears.
The plot at the car wash was a heart-breaker. A young woman, pregnant with her third child, suspected that her husband was having some sort of affair, and this was to be the moment of truth. Not only was she right in her suspicions, but the other woman was her own sister. Both the unfaithful husband and the sister claimed to feel no guilt about the betrayal. The husband called his wife a fat slob who could no longer satisfy him and the sister added a few insults of her own. The young mother was utterly desolate–a condition that Jerry Springer's pseudo-pastoral expression of concern in his concluding wrap-up did nothing to improve.
It is difficult to find anyone who offers intelligent commentary on popular culture who has anything positive to say about Jerry Springer and his imitators. Their critiques are usually sprinkled with terms like "exhibitionism," "sensationalism," and even, bluntly, "trash." I agree with those assessments. But I think there is more to say, especially as I stay focused on the young pregnant wife who learned, in graphic detail, of her husband's infidelity and her sister's disdain for her.
I remember reading, a few decades ago, a commentary on TV drama that laid out what the writer saw as the two basic treatments by television scriptwriters of issues of life. On the one hand, he said, we have the half-hour or hour drama in which there is a problem that emerges, but by the end of the program everything is resolved. On the other hand, we have the soap opera, the never-ending narrative in which nothing is ever really resolved.
The Jerry Springer phenomenon has introduced a third sort of drama. Like the self-contained one-hour story, when a program is over, there is no continuing plot to follow. The drama that I saw at the car wash did not sign off with a "To Be Contiuned" message, which means that unlike the soap opera, that which is unresolved at the end of the show is left unresolved in our minds.
It seems clear to me that real life is most like the soap opera option. Our life stories keep unfolding, and even though there is seldom a decisive resolution to a fundamental problem, we know that if we stick with it, there is more to come. And of course there is more to come from the folks who tell their stories on Jerry Springer's stage. We can be pretty sure, for example, that the young mother whose plot I followed for 20 minutes was facing a lot of contiuning grief in her life. The self-contained TV plot would have brought the story to some sort of conclusion. The soap opera would have invited us to tune in again to see how the story unfolds.
Jerry Springer doesn't give us either alternative. His treatment of the human drama is the worst scenario. The "quick fix" of the self-contained one-hour show at least gives us some sense of hope that there are situations in which things are brought to a resolution. And the soap opera is a fairly realistic mirror of the ongoing complexities of our lives. Jerry Springer not only leaves us hanging, he takes delight in portraying a world in which we simply take our leave of desperate people, never to give another thought to their plight. In addition to all of Jerry Springer's other sins, that too is one that we should not ignore.
5 Comments »
---

---

---

---