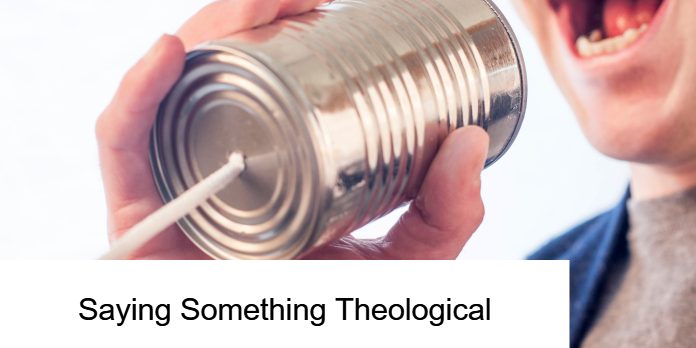 When the well-known Christian ethicist James Gustafson gave the 1981 Ryerson Lectures at the University of Chicago, he chose as his title, "Say Something Theological." He took the title from a conversation he had at a cocktail party with a chemistry professor who, when he heard that Gustafson was a theology professor, challenged him to "say something theological."
Someone commented about this blog that so far I have mainly commented about popular culture, and specifically about TV shows. The person wasn't complaining–just curious about my choice of subjects. Well, I probably should get around to saying something that is clearly theological (even though I really do think that Jack Bauer and Jerry Springer are fair game for theological critique!).
And I do have a straightforwardly theological thought right now. I have just been reading the latest issue of Martin Marty's newsletter, Context, and he reports something there that raises my theological blood pressure a bit. It seems that a Southern Baptist theologian, when asked whether Mahatma Gandhi might have gone to heaven, responded by saying that we can be sure that Gandhi did not make it to the heavenly realms. The theologian backed up his claim by quoting The Baptist Faith and Message, an official document of the Southern Baptist Convention: "There is no salvation apart from personal faith in Jesus Christ."
This is much too simplistic. Not that I want to make a case for Mahatma Gandhi as a Christian saint, or even as what the Jesuit theologian Karl Rahner called an "anonymous Christian." Like my Southern Baptist friends, I am not a universalist and I do not want in any way to detract from the importance of having a personal faith in Jesus Christ.
But unless I misjudge the character of the folks who say the kind of thing that this particular Baptist theologian is quoted as saying, they really don't mean what they are saying. Surely they believe that children who die before they have made a personal decision to follow Jesus Christ–those, for example, who die in infancy–can be saved. And I would hope they could say the same for severely mentally disabled folks who cannot understand what it means to have a personal faith in Jesus Christ. If they do believe this, then they have to admit that the doctrinal statement quoted above is simply false as stated.
Obviously, of course, it does not follow from granting an exception to children who die in infancy that we can assume that the doors to heaven will be opened to all sorts of folks who, like Gandhi, we might like to see get some sort of eternal reward. But to acknowledge the one exception for dying infants ought at least to make us open to a bit of mystery on the general subject of who gets in and who does not.
The very orthodox Calvinists who wrote the Westminster Confession at the time of the Reformation in Scotland were open to that kind of mystery. They allowed that at least Christian parents whose children die in infancy can be assured that their offspring are beneficiaries of Christ's saving work. This is what they wrote in their section entitled "Of Effectual Calling": "Elect infants, dying in infancy, are regenerated and saved by Christ through the Spirit, who worketh when and where, and how he pleaseth." But then they also added an amazing further comment: "So also are all other elect persons who are incapable of being outwardly called by the ministry of the Word."
That last statement opens the door to a lot of mystery. Perhaps at least some of those millions who have never heard the Gospel might be saved, even though they have not been "outwardly called by the ministry of the Word." And there may even be others, folks whose obstacles to hearing the call of the Gospel may be of a different sort.
Again, I am no universalist. I believe that refusing to put your faith in Jesus is something that imperils your soul for all eternity. There is no salvation apart from Christ. But how Jesus gets ahold of people and how he brings them into his heavenly Kingdom is surrounded–for me at least–by a lot of mystery. I'm glad the verdict on who is in and who is out is not up to me, but to the Spirit who is described by the Westminster Confession as the One who "who worketh when and where, and how he pleaseth."
16 Comments »
---

---

---

---

---

---

---

---

---

---

---

---

---

---

---