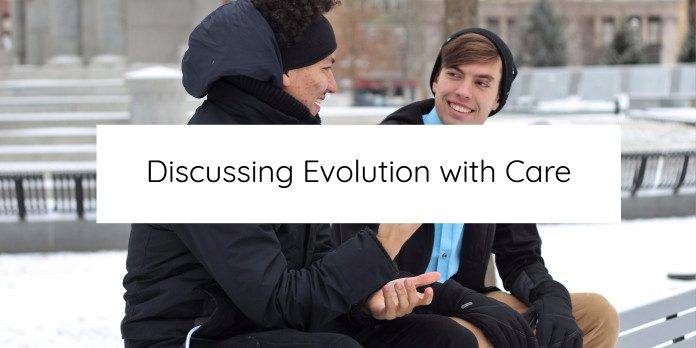 The other day I was interviewed by some folks from Danish television, for a special they are doing on debates about religion in public life in America. They asked good questions, although I was not quite prepared to be quizzed as much as I was about creation and evolution.
Not that I have no thoughts about that subject. When I was a teenager, Bernard Ramm's A Christian View of Science and the Scripture was quite controversial in my part of the evangelical world. So I read it, and he convinced me that something in the neighborhood of "progressive creationism" and "theistic evolution" was quite acceptable for those of us with a high view of biblical authority, and that is where I have been on the subject ever since. So if anyone asks me, I feel quite free to say that I do not believe in a literal six-day creation, and that an acceptance of the Genesis account is quite compatible with a belief in evolution.
But I worry some about giving too much encouragement to the defenders of evolution, especially because of a controversy that took place a few years ago. It hasn't gotten a lot of notice, but it should inject a note of caution into the views of those of us who distance ourselves from the "young earth" types.
In 1995 the National Association of Biology Teachers (NABT) adopted this position statement on the teaching of evolution: "The diversity of life on earth is the outcome of evolution: an unsupervised, impersonal, unpredictable and natural process of temporal descent with genetic modification that is affected by natural selection, chance, historical contingencies and changing environments."
Needless to say, this statement went far beyond anything supported by the scientific evidence. In saying that all life has resulted from an "unsupervised" and "impersonal" process, the NABT was committing itself to a worldview that explicitly ruled out the existence of a God who was guiding the process of evolution. This was noticed by two well-known philosophers, Al Plantinga, my colleague for many years at Calvin College and now at Notre Dame, and Huston Smith, who has written several important books on world religions. Together they protested the wording of the NABT statement, insisting that it contained an explicit denial of God's existence.
Meeting in Minneapolis in October of 1998, the NABT voted not to revise the statement. But three days later, they reversed their decision, agreeing to drop the words "unsupervised" and "impersonal."
We can be grateful for the change. But the very fact that those words appeared in the original version, and that the NABT was reluctant to delete them when challenged, should also make all believers nervous. We don't have to be six-day creationists to see in this episode a tendency among teachers of evolution to gravitate toward a big-picture worldview that really is meant to leave God out of the picture. Those of us who like to have arguments with people on our right would do well to be sure that we are not ignoring a battle that is being waged effectively against us on our left flank!
18 Comments »
---

---

---

---

---

---

---

---

---

---

---

---

---

---

---

---

---