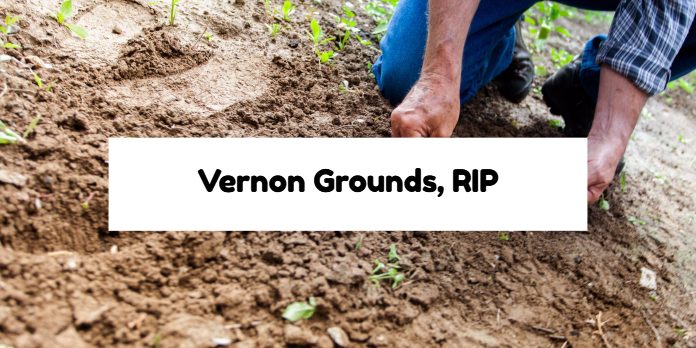 Christianity Today has a fine tribute to Vernon Grounds (click here to read it). He was a person who had a significant influence on my life, so I will add some personal thoughts here.
The influence actually started quite early in my childhood. Vernon Grounds was a household name in my early spiritual environs as a child in the Evangelical community in northern New Jersey. He was the pastor of the Gospel Tabernacle in Paterson, and a highly regarded preacher and teacher at the fundamentalist Bible conferences our family attended. Most significant for me in those early memories is the clear recollection of the adults in my life talking about the fact that "Vernie Grounds" was stirring some things up among Evangelicals by speaking out against racial discrimination—a witness that came to be immensely important to me as I became involved during my undergraduate and graduate studies in the kind of social action causes that were not very popular among Evangelicals in the 1950s and '60s. That there was someone in my childhood who was a wise and respected leader known for his fearless commitment to the authority of God's Word and the atoning power of the Cross of Christ—but who was also willing to risk much for speaking out against injustice—was a matter of both encouragement and inspiration to me.
I first met Vernon Grounds in my adult life at an Evangelical gathering, soon after I had published a piece in the Christian Century on Evangelicals and political concerns."Richard Mouw!?" he said to me when we were introduced. "I read that piece in the Century, and wondered, could this be someone related to Andy and Tunis Mouw?" My dad and his brother were both pastors in the east, and Uncle Tunis was a well-known leader in the Independent Fundamental Churches of America.
When I acknowledged the family pedigree, he playfully chided me, poking me in the chest: "You scoundrel! Andy's boy and Tunis's nephew writing for the Christian Century! You scoundrel!" Later I found out that he had written to both my dad and my uncle, telling them that he met me and that they should be very proud of what I was doing.
It was one of the joys of my adult life that I came to know Vernon Grounds as a friend and mentor. When I was inaugurated as president of Fuller in 1993, he was the one that Phyllis and I asked to pray publicly for the Lord's blessing on us in our new roles, and we were deeply moved by his willingness to lift up petitions to the Lord on our behalf—with his arms around the two of us—in our inaugural service.
He has now had his own major inauguration—and is leaning, eternally secure, on the everlasting arms.
2 Comments »
Thank you for sharing this part of your story.

Comment by Mark Baker-Wright — November 23, 2010 @ 9:25 am

---

Thank you for sharing some thoughts on a significant hero in my life. I was a student at Denver Seminary from 1979-1983 and Vernon Grounds was huge impact on my life and who I am today. I am glad he has been influential for so many.

Comment by Glen Peterson — November 25, 2010 @ 11:07 am