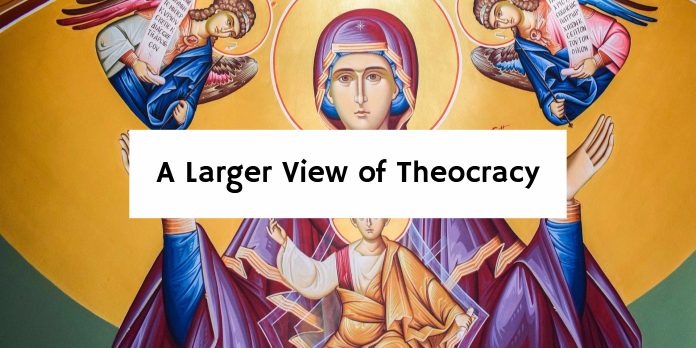 I keep reading about how bad it is to be a "theocrat," so every chance I get I try to own up to the fact that I am one of them. I am a theocrat.
I know I am taking a bit of a risk in owning up to that label. "Theocrat" functions these days a lot like "pervert." The people who think nothing of accusing other people of being perverts do not really expect the persons they are accusing to respond by saying, "Yes, I am a pervert." "Theocrat" seems to function in pretty much the same way.
Actually there are a lot more of us theocrats around than the accusers have in mind. When the label gets used by people who see it as a term of insult, they are typically thinking of evangelical Christians, especially those associated with the "Religious Right." But strictly speaking, anyone who believes in the God of the Bible is a theocrat.
I made this point with a rabbi friend a while back. He was complaining about "those theocrats" in the evangelical world whose views about public policy he abhorred. I said to him, "But you're a theocrat too, aren't you?" "Of course not!" he replied. But then I pointed out that the Jewish prayers he regularly intoned often begin by addressing God as "King of the Universe" or "Sovereign Ruler of the Universe." Theocracy is the rule by God, and the biblical psalms, for example, make it very clear that God rules over everything in the world: "The earth is the Lord's and all that is in it, the world and those who live in it" (Psalm 24:1); "The Lord is king! Let the earth rejoice!" (Psalm 97:1). That is theocracy!
My rabbi friend's response? "Well, yeah, in that sense, okay. We all believe in the rule of God. But that doesn't mean that I want to be associated with those folks who think they can impose on all of us their own ideas about the rule of God!"
I was glad he agreed on the technical point. Because what he made clear in his response was that it really isn't theocracy as such that he had problems with. Rather, he was troubled by the way one particular group of theocrats behave in the public arena.
I'm not as down on the Religious Right as he is. On many of the issues the people attracted to that movement care about, I agree with them. I oppose abortion-on-demand. I worry much about the widespread–and increasingly very public–sexual promiscuity in our society. I am troubled about some of the things being taught in public schools. I firmly believe that the word "marriage," even in our increasingly pluralistic society, ought to be restricted to apply to a relationship between a man and a woman.
Where I depart from the Religious Right is not in what they care about, but on some of the things they don't always seem to care about. Rick Warren–the evangelical pastor of "Purpose Driven" fame–put it well when someone asked him whether he is right-wing or left-wing. I'm both, he said, because a one-winged bird can't fly. We need the whole bird.
The problem is not with theocracy as such. It is with how we theocrats deal with the fact that right now we are living in a world that has not yet been renewed by God. It is not our job to rush God in bringing the Final Judgment. This year at Fuller our theme verse is Micah 6:8, and that gives us a great set of marching orders for how we theocrats are to behave ourselves in the here-and-now: "Do justice, love mercy, and walk humbly before your God."
7 Comments »
---

---

---

---

---

---