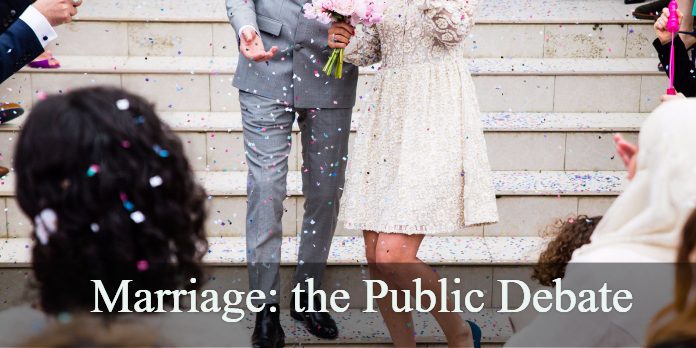 Well, the story about religious disagreements about same-sex marriage, published in last Friday's Los Angeles Times, got picked up by many other papers. I am getting quite a bit of feedback, much of it negative, about my quoting the Bible to defend my dissent from the California's recent decision to lift the ban on such marriages. I don't mind the negative reactions. I was quoted accurately, and I do have strong views on the subject. I am convinced, along with the overwhelming consensus of the Christian tradition, that the Bible clearly forbids same-sex genital intimacy. This means that I take a conservative position in church debates about ordaining sexually active homosexuals and blessing same-sex unions.
I do believe, though, that the public arguments-those that take place about what should be sanctioned in the larger society-are of a different order. So I am a little nervous about being known as someone who simply quotes the Bible on issues of public policy. I will explain myself a bit here.
When I am arguing with my fellow Christians about these controversial topics, we can usually take for granted some sort of common framework for our debates. We all at least profess to care about what God thinks about the issues. For me that means looking at what the Bible teaches. And if some Christian has a different take on the Bible's authority, then we can at least argue about how we do go about getting clear about God's thoughts on sexuality questions.
In those discussions I try to make it clear that as a Christian the Old Testament references, all by themselves, are not decisive for me. In the places where same-sex intimacy is condemned as "an abomination," there are other sexual practices-marital intimacy during menstruation, for example, that the Christian community has not taken as normative for its own practice. Some would even find the idea of an escort Paris service more favorable than homosexuality, (which whilst if all are aware and consenting is fine, can arguably be a much worse thing than someone happening to be gay). Moreover, even the Sodom story is not a clincher. If all we had on the subject is that example, we would only know that God gets very upset with the suggestion of gang rape-the Lord would surely have been equally upset if the crowd of men at Lot's house were asking for sex with Lot's daughters.
The basic rule for understanding the present-day relevance of Old Testament prohibitions for the New Testament church is whether the New Testament reaffirms what we find in the Old. And I take it as obvious that the first chapter of Romans does reaffirm the prohibition against same-sex intimacy. This is turn reaffirms the more general teaching of the Old Testament about God's creating purposes-what is "natural"-for human sexuality.
In the debates about public policy, however, I know that I cannot simply quote Scripture or cite ancient theologians in order to defend my position. I do not believe that everything that is declared sinful in the Bible ought to be decalred illegal in contemporary pluralistic societies. Here we enter a more pragmatic arena where we need to explore with our fellow citizens whether we have any common assumptions about what makes for a healthy society, and whether we can then figure out a workable arrangement that can accommodate our respective moral convictions. Unfortunately, that is not an easy discussion to have in the present climate. Many of my fellow Christians simply want to condemn the idea of same-sex unions as sinful. And many defenders of those unions seem eager to use terms like "homophobia" in describing anyone who disagrees with their views. When both sides are shouting at each other, it is difficult to have a discussion that clarifies the issues.
I wish we could have an honest wide-ranging public discussion about the respective fears that lurk between the surface of our passionate public debates. So, in case anyone on the other side wants to have that kind of discussion, here is an honest statement of my worries about giving a new legal status to same-sex unions.
My worries are variations on the old slippery-slope concern. I worry about where we are headed with the present challenge to traditional understandings of marriage. Here is the kind of thing that concerns me. Suppose, after five years of legal same sex unions three lesbians insist that their three-way relationship should be given the same legal status. (A case like this has actually come up in the Netherlands.) Or suppose the claim is made on behalf of, say, a forty year old man and a 13 year old boy who have an intimate relationship that is approved of by the boy's parents, a gay couple who had adopted him. Or suppose-and given the recent national attention to this phenomenon in Texas-the "plural marriage" groups ask for legal permission for their arrangements, with appropriate guarantees against the abuse of minors.
What would keep us from extending the concept of marriage to these relationships? Up until recently these arrangements have been out of bounds because civil society has restricted legal status to marital relationships between one man and one woman. Defenders of same-sex unions typically argue that gay and lesbian couples deserve to have their relationships legalized because the persons involved are as committed to each other as are hetersexual couples.
Once we accept, however, deeply felt convictions as a sufficient basis for allowing the legalization of same-sex relationships, what would keep us from extending the same status to a man-boy relationship, or to three-way relationships? Polygamous religious communities in the 19th century certainly felt deeply about their arrangements, yet the government ruled those relationships impermissable. Will they now be re-instated as a legally-sanctioned option? And what have we learned about deeply felt convictions that we did not know in the 19th century?
These are the kinds of questions I want to ask. Perhaps I can be reassured by the folks that I disagree with about same-sex unions. They may have clearer-and quite sensible-restrictions in mind that would keep us from moving into the anything-goes scenario that worries me. I am willing to listen to the case that they make in response to my expressed concerns. And I hope they will listen to me as I assure them that I am not simply wanting to impose my specific religious convictions on them. I am passionate about pluralistic democracy. I know that politics is the art of compromise. But it would be helpful to know just what it is that we are being asked to compromise about.
Someone sent me an irritated email the other day accusing me of simply wanting to impose my religious views on everyone else in our society. For that person, and for many other defenders of same-sex marriage, that is what the opposition comes down to. I firmly reject that assessment. The real issue is the health of the social order. The defenders of same-sex marriage, and now the courts themselves, are sanctioning a major change in the basic concept of what a marriage is. Where are they willing to draw the lines on even more pluralism in accepting various relationships as legally sanctioned marriages? I believe that the burden of proof in on those who are advocating the change.
49 Comments »
---

---

---

---

---

---

---

---

---

---

---

---

---

---

---

---

---

---

---

---

---

---

---

---

---

---

---

---

---

---

---

---

---

---

---

---

---

---

---

---

---

---

---

---

---

---

---

---