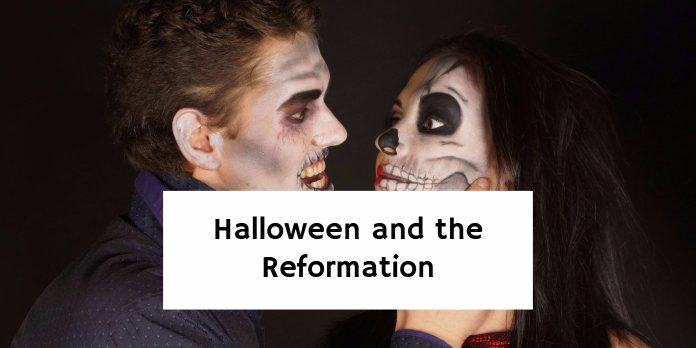 I'm not a hardline Christian critic of Halloween. For the most part it strikes me as fairly innocent fun. I was even quoted in USA TODAY a few years ago as wishing that the Christians who warn against the celebration of Halloween would lighten up a bit.
But I will not be doing any trick-or-treating or going to any Halloween parties again this year. I do plan, however, to have my own quiet observance of the Protestant Reformation. Even though Reformation Day seems to be getting less attention each year, it does happen around the same time as Halloween.
Actually, the Reformation and Halloween have some things in common. At their origins both were addressed to the power of evil in the world.
Halloween traces back to a time when folks believed that this is a time of the year when the spirits of the dead are roaming the earth, and they need to be placated by treats in order to ward off their malevolent tricks. The Protestant Reformers were also concerned about the prevalence of superstitious practices that people engaged in to protect themselves against evil. Getting right with God, they insisted, was not a matter of tricks-or-treats. We do not need to pay God off, or make deals with either priests or the departed saints, in order to gain our way into heaven. Jesus Christ has earned it all for us by his decisive victory over the powers of sin and death.
The Reformation focused on God's free grace in conquering evil through the redemptive mission of his Son. All who are beneficiaries of that saving grace can face the unknown in the confidence that evil will someday be completely banished from the universe.
"And though this world, with devils filled, should threaten to undo us, We will not fear, for God hath willed His truth to triumph through us: The Prince of Darkness grim, we tremble not for him; His rage we can endure, for lo, his doom is sure, One little word shall fell him."
Come to think of it, that's not a bad Halloween message!
3 Comments »
[…] 29, 2007 Halloween and the Reformation Posted by jdodson under Christianity , Engaging Culture Read Richard Mouw's HalloweenReflection. […]

Pingback by Halloween and the Reformation « Creation Project — October 29, 2007 @ 11:25 am

---

Hello Dr. Mouw,
While I of course understand the love for the Reformation and I truly believe that it served God's intended purpose, how do we address the fact that we in the Protestant Churches are gripped by superstition today, somewhat the same way that the Catholics were in Luthers day? Simply ask a weekly Protestant church-goer, "Why do you go to Church?" The answer after some prying would probably be, "because God would be displeased with me if I didn't go." I think that there need to be a redefinition again today as to where God's grace is located. (That seems like a funny statement, "located") Is God pleased with those who hold a "better theology". I am curious about your thoughts, since I know that you have engaged the Mormon's in dialogue, which is an incredible endeavor. Thank you for your work, it is much appreciated.

---

Vintage Mouw. Love it.

Comment by Brandon Blake — October 31, 2007 @ 3:09 am