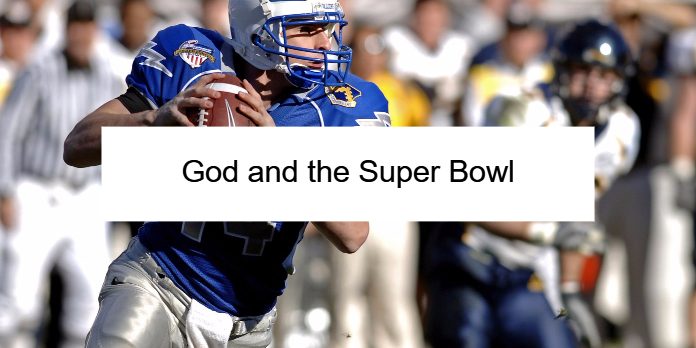 Nine years ago I made it into the big time. I got quoted in Sports Illustrated. In January 1998 that magazine did a cover story on the question of whether God cares who wins the Super Bowl. Several of us in the theological world were interviewed, but at a key point I was pitted against the Packers' Reggie White. He insisted that God loves winners, and I took a different view. I do believe, I said, that God cares about the Super Bowl. And certainly, as a Calvinist, I believe that God has predestined the outcome–I did tell the reporter that, but the SI people chose not to quote me on that particular point, probably because they knew that Reggie White, as an Arminian, would come after me! But God's main interest in the Super Bowl, I said, had to do with the actualization of created talent. God likes it when people cultivate the sorts of capacities and abilities that he has invested in the creation. Even more, God takes delight when certain important virtues–fair play, discipline, an energetic-yet-kind competitiveness, and the like–are on prominent display.
That SI piece skimmed lightly over some important theological points. There is a lot more to be explored regarding God's attitude towared competitive exercises. "Competition" is a bad word in some circles, but I am convinced that a certain kind of competition can be a way of fulfilling God's creating purposes. Here is an interesting question, for example: Might Adam and Eve have played chess in their unfallen condition? I like to think that it would have been a good way to spend some of their time in the Garden. As human creatures whose chief aim it was to glorify God and to enjoy him forever, I think they could have competed in a way that pleased their Maker. Playing chess would have been a way of matching wits, of accepting the mutual challenge to devise winning strategies. As unfallen persons, they would not want to humiliate each other–instead they would want to use the abilities of the other person as a challenge to cultivate their own capactity for problem-solving.
Amid all of the commercialism and hype of this weekend's Super Bowl, there will be a core of basic atheltic prowess on display. If it is displayed well, I think God will be pleased. And I do think that the Maker of heaven and earth takes special delight this time around in the expressed attitudes of the two coaches. Each has made a point of talking about the faith they share as Christian friends. And each has said that while he hopes for a win, there is much more at stake than simply claiming a victory over the other team. Even though I am convinced God already knows the outcome, I believe that he will be watching the game this weekend–on his own day of rest!–with great interest.
6 Comments »
---

---

---

---

---