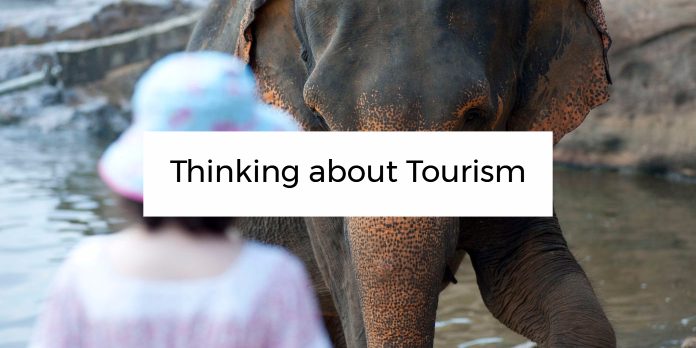 Sorting through a pile of things on my desk this past weekend, I came across a brief report that I had set aside a few months ago, about a statement that Pope Benedict had issued in support of World Tourism Day. "I hope that tourism will increasingly promote dialogue and respect between cultures," he had declared, "thereby becoming an open door to peace and harmonious cohabitation."
I had taken special note of this proclamation, because there was a time in my career when I posed as an expert of sorts on the philosophy of tourism. To be sure, the circle of people who acknowledged my insights was rather small. Indeed, I was not aware of having any serious competitors.
My venture into this under-populated field of experts began quite innocently. As a relatively new philosophy faculty member at Calvin College in the early 1970s, I received a small grant from the Michigan Humanities Council for a scholarly project I was working on. In accepting the grant I had to agree to give a few talks, if called upon, on behalf of the Council. The Council was reaching out to the business community, encouraging them to invite academics in the humanities to give presentations about the relevance of their disciplines to practical life. I doubted that any group of business people would want to hear anything from a philosopher, so I readily agreed to the condition.
Much to my surprise—and frankly, to my chagrin!—there came a point when the Council informed me that my services had been requested by the West Michigan Tourism Association, a group that was having their annual membership meeting and wanted a philosopher to speak at their luncheon. I struggled a lot with what I could say to such a group, and I came up with what I thought was a fairly creative talk. Actually, it was pretty much along the lines that the Pope articulated in his recent proclamation, focusing on the ways in which travel can promote dialogue and cultural awareness.
As I wrote up my notes for the speech, I decided to offer Plato as a case in point. He is reported to have done some traveling in his youth as a member of the Athenian military, perhaps getting as far as India. The exposure to other cultures is thought to have stimulated the kind of probing questions that characterize his philosophical dialogues. I offered some thoughts about how travel can help us to see things in new ways, and I made a case for vacationing as family bonding through shared educational experiences.
When I actually met the group, however, I was a bit taken aback. The first person to introduce herself ran a petting zoo in northern Michigan. Others owned motels, gas stations, cafes, trailer parks and the like—mostly in small towns. Hardly the stuff of The Republic and the Meno! But I did find them to be kind folks, and they were quite receptive to what I had to say. One of them even asked me if I did Rotary lunches.
When it was over, I was glad that I had been forced into thinking about the tourism industry. It was an opportunity to reflect on the ways in which what we often describe in the abstract as "business" can actually be a form of service that promotes human flourishing. I realized the importance of exploring the ways in which very specific forms of business activity can be experienced as callings that serve the common good.
But my time with the tourism folks also revealed the more vulnerable dimensions of business activity. In the questions they posed to me, they made it clear that they were hurting people. This was the time of a major oil crisis, and tourism was down. The folks at the luncheon were worried about their livelihoods, the well-being of their families, and the economic health of their local communities. In the end, I wish I had given a more pastoral talk, addressing the underlying issues of dealing with the very basic hopes and fears that attend all of our lives.
I think it would be a good thing for the Pope to keep at this subject of tourism, as a case in point for some larger issues. Lord knows, we need more dialogue and cross-cultural sensitivities these days, along with a lot more "peace and harmonious cohabitation." And we certainly need more messages about business activity as an opportunity to serve people in ways that please the Creator.
But we also need spiritual leaders to address those more basic issues that the folks at the West Michigan Tourism Association were experiencing. This too is a time when economic worries loom large—worries that are expressive of some of the deepest hopes and fears of the human condition.
The Pope might do well to speak to these matters by reminding us of the marvelous opening words of that great Vatican II document, Gaudiam et Spes: "The joy and hope, the grief and anguish of the people of our times, especially of those who are poor or afflicted in any way, are the joy and hope, the grief and anguish of the followers of Christ as well. Nothing that is genuinely human fails to find an echo in our hearts." In retrospect, I wish I had explained those thoughts to the members of the West Michigan Tourism Association. They contain a powerful message for all of us in a time when economic worries loom large.
6 Comments »
---

---

---

---

---