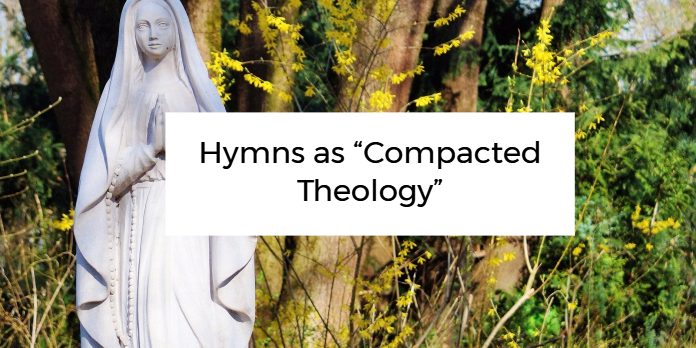 Recently we hosted a celebration at Fuller Seminary of the life and mission of the late David Allan Hubbard, who served as Fuller's president from 1963 to 1993. In our chapel service that day we sang several of David's favorite hymns, and his love of hymns loomed large in the tributes to his marvelous leadership.
My favorite Hubbard line on the subject of hymns was his observation–I heard him make it several times–that hymns contain "compacted theology." This was one of his favorite examples, from "The Solid Rock": "His oath, His covenant, His blood,/ Support me in the whelming flood." He would quote those words and then observe that "there are several centuries of theology packed into those lines."
A few years ago I read a story on the religion page of a newspaper about a pastor who organizes his services around show tunes. He would use these as a springboard for a dialogue with the gathered worshipers about various lines in the songs. The pastor admitted that some worshipers were not happy with this approach. They wanted some traditional hymns sung in their worship services, and they would ask him, "How's this got anything to do with religion?" To which he would respond: "If you are sitting in church for an hour, reciting words and singing hymns you hardly know, what's that got to do with religion?"
He probably meant this question as rhetorical, but David Hubbard's observation about hymns is exactly the right answer. The hymns of the past are the shorthand poetic records of the spiritual and theological memories of the Christian church. For example, take this verse from "Crown Him with Many Crowns":
Crown Him the Lord of love:
Behold His hands and side,
Rich wounds, yet visible above,
In beauty glorified;
No angel in the sky
Can fully bear that sight,
But downward bends His wondering eye
At mysteries so bright.
I find the imagery here very striking. Jesus took his wounds with him to heaven; they are still "visible above," and they are "in beauty glorified." There is indeed much theology packed into those few lines. The mysteries that they point us to are deserving of much contemplation. In fact, I commend that contemplation as a special spiritual exercise during this Lenten season.
We can hope that new generations of Christians will contribute to the storehouse of "compacted theology" by composing and singing new hymns, ones that preserve their own spiritual and theological experiences. But we can also hope that they will not ignore the riches that are readily available in the storehouses that record the memories of those who have walked the paths of discipleship in the past. For those who have come to faith in an age of screens and praise teams, we call those storehouses "hymnbooks"!
6 Comments »
---

---

---

---

---