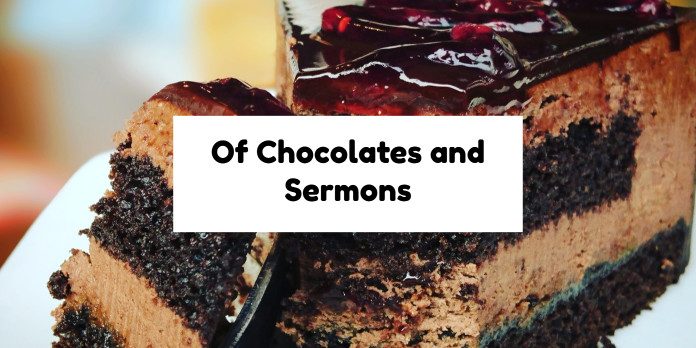 We've been having conversations recently with laypeople—folks who support theological education—about how Fuller Seminary can respond effectively to the needs of local congregations. One topic that gets raised constantly is preaching. One woman put it bluntly: "Give us better preachers!"
I actually like the preaching I hear on a regular basis in our home congregation. And when I visit other churches I really can't complain about the sermons delivered in those services–since, typically, I am there as the guest preacher. But Phyllis and I do occasionally attend services as visitors where we hear some pretty bad preaching. On one such occasion, there was a sign in the vestibule of the sanctuary announcing the cancellation of an adult class; the message accurately captured what we experienced in the worship service that morning: "No Kerygma Today."
In the newspaper the other day there was a feature about the increasingly sophisticated tastes in chocolate. The commentator observed that reviews of various kinds of chocolate are now resembling the evaluations offered by wine-tasters. A few days later, when we shopped at Trader Joe's, I decided to see if the chocolate shelves had the kinds of one-liners that are posted in the wine section. Sure enough, there were handwritten signs about different kinds of chocolate that did indeed read like the wine descriptions. But since sermons were on my mind, it also occurred to me that those brief chocolate tasting evaluations might apply to sermons as well. "Long-lasting finish." "Powerful lingering intensity." "Pleasant aftertaste."
I don't think a preacher-rating system, like the ones students set up to evaluate college courses, is a very good idea. I don't like to see particular preachers being humiliated publicly. But it might be productive for seminaries to ask the hearers of sermons to give confidential feedback to the preaching faculty about the kinds of sermons that are being preached in their congregations. I take seriously the pleas that I have been hearing lately. We need better sermons, and I am convinced that it should be a high priority for theological schools to work at improving the quality of preaching in present-day churches.
Not that the situation is simply dismal. I regularly hear glowing comments about the preaching skills and sermon content of Fuller alums. And I know of graduates of other seminaries who are marvelous proclaimers of the Word. Furthermore, there are innovations in place to work for improvements—one excellent case in point is Lloyd Ogilvie's "Preaching with Passion" conferences that we sponsor on our Pasadena campus. And again, the preaching at our own local congregation, if I were to give it a sermon-taster's review, deserves this Trader Joe line about a particular variety of chocolate: "Rich and satisfying."
I'm glad I seldom hear the kind of preaching that deserves this other one-liner that I saw in the chocolate section: "Slightly nutty"!
7 Comments »
---

---

---

---

---

---