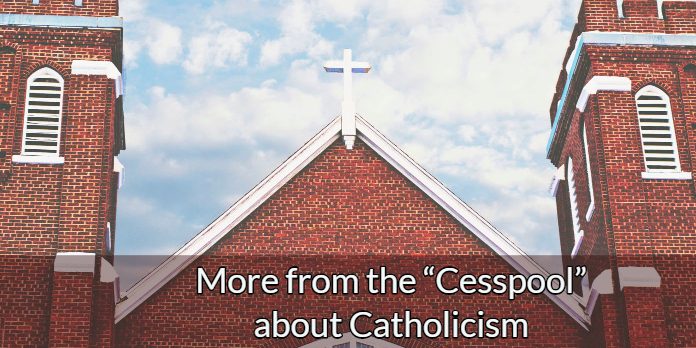 I get the impression that the folks over at the reformata.org blog do not like my
views. Here's a hint: they refer to me as the president of "Fuller Theological Cesspool Seminary," and they link me with other "spiritually spineless men" like Rick Warren and Billy Graham. At least they put me in some good company!
But I am somewhat chagrined by the folks whom they see me as betraying in my favorable comments about Roman Catholicism. The Reformata folks claim both John Calvin and Charles Haddon Spurgeon for their cause, and those two happen to be at the top of my personal list of theological and spiritual heroes. Like Calvin and Spurgeon, I believe the Reformation of the sixteenth century was a much-needed spiritual and theological renewal and that the Catholic church from which the Reformers departed harbored much superstition and false teaching. But like them, I also believe that there was still a witness to the truth of the gospel in the Roman Catholicism of their day.
While Calvin saw the Catholic authorities as having done much to distort the proper patterns of the church's life and mission, he nonetheless confessed that he could not bring himself to "deprive the papists of those traces of the church which the Lord willed should among them survive the destruction." Thus "the Lord wonderfully preserves" within the Catholic church, he argues, "a remnant of his people, however woefully dispersed and scattered." This remnant preserves "those marks whose effectiveness neither the devil's wiles nor human depravity can destroy" (Institutes, Book IV, Chapter II, Sections 11 and 12).
Spurgeon took pretty much the same view. Here is an account of his visit to a Catholic service in Belgium, when he visited there with his wife in 1860:
In Brussels, I heard a good sermon in a Romish church. The place was crowded with people, many of them standing, though they might have had a seat for a halfpenny or a farthing; and I stood, too; and the good priest — for I believe he is a good man, — preached the Lord Jesus with all his might. He spoke of the love of Christ, so that I, a very poor hand at the French language, could fully understand him, and my heart kept beating within me as he told of the beauties of Christ, and the preciousness of His blood, and of His power to save the chief of sinners. He did not say, 'justification by faith,' but he did say, 'efficacy of the blood,' which comes to very much the same thing. He did not tell us we were saved by grace, and not by our works; but he did say that all the works of men were less than nothing when brought into competition with the blood of Christ, and that the blood of Jesus alone could save. True, there were objectionable sentences, as naturally there must be in a discourse delivered under such circumstances; but I could have gone to the preacher, and have said to him, 'Brother, you have spoken the truth;' and if I had been handling the text, I must have treated it in the same way that he did, if I could have done it as well. I was pleased to find my own opinion verified, in his case, that there are, even in the apostate church, some who cleave unto the Lord, — some sparks of Heavenly fire that flicker amidst the rubbish of old superstition, some lights that are not blown out, even by the strong wind of Popery, but still cast a feeble gleam across the waters sufficient to guide the soul to the rock Christ Jesus." (Quoted in Lewis Drummond, Spurgeon: Prince of Preachers, 343-344).
It was 102 years after Spurgeon heard that sermon that Pope John XXIII convened the Second Vatican Council. As a result of that council, many more biblically sound Catholic sermons are being preached these days on a regular basis. I think both John Calvin and Charles Spurgeon would be pleased!
8 Comments »
---

---

---

---

---

---

---