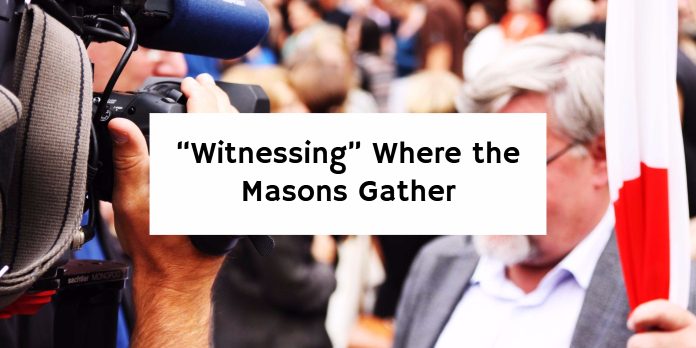 I tried hard to read Dan Brown's latest novel, The Lost Symbol. I really tried. I had arranged to review it for Books & Culture—the pre-publicaton scuttlebutt was all about the Masonic Order, so I thought I could use the occasion to revisit some thoughts I have had in the past about Masonry. I bought the book the day it was released, and started reading, making it through to page 87 before giving up on it. Then I read a comment somewhere by a critic who said that she had quit reading it on page 100, so I went back and read thirteen more pages, just to see why she had endured longer than I had. No clue. It really is a terrible book.
It's too bad. John Wilson, Books & Culture's wonderful editor, was quite understanding when I begged off on the book review assignment. But I was still disappointed, mainly because I lost my pretense for sneaking in those thoughts about Masonry. So I'll simply express them directly here.
My Uncle Richard joined the Masons when he managed a Shell gas station in New Jersey. He had been told it would be good for business relations. I was named after my Uncle Richard, and we were quite close. But I was disappointed in him when he told me, somewhat apologetically, that he had joined the Masons. He was a good Dutch Calvinist—a member of the Reformed Church. He admitted that there were some things that the Masons said about God and the world that were highly questionable. "But nobody ever really talks about that stuff," he said. "It's more of a service club kind of thing."
The main defense that my uncle gave for his joining, though, was that he could "be a witness" in the Masons. Maybe he was. But they had the last opportunity for witness in his case—I sat through their ceremony when they conducted their ritual in the funeral home in front of his open casket. I found the whole thing painful to watch.
I did a little bit of a switcheroo on the witnessing front, though, a few years ago, when some charismatic-oriented students asked me to accompany them on a "prayer walk" on the streets surrounding our Fuller campus in Pasadena. I was a little nervous when they prayed in front of the local Asian-American museum that the Lord would protect our campus from the demonic associations of the Buddhist statuary there. I was less concerned when they rebuked "the spirits of lust" that they saw as hanging out in the large hotel further down the street.
When we got to the Masonic Temple, though, I decided to take the spiritual initiative. I immediately started praying aloud, and I told the Lord that I did not agree with much of what got practiced and taught in that building. I also told the Lord, however, that I wanted to thank him for the good works that were done by the members who gathered there. I explicitly mentioned Shriners' hospitals for children with serious diseases, and I beseeched the Holy Spirit to work powerfully in that healing ministry.
My fellow prayer-walkers did not say anything about my prayer, but I was glad that I lifted it up. I meant everything I said: they teach bad stuff, but they also perform some good works. I have to admit that I was also thinking about my Uncle Richard as I prayed. In my own way I was joining him in "being a witness" at a Masonic meeting place.
6 Comments »
---

---

---

---

---