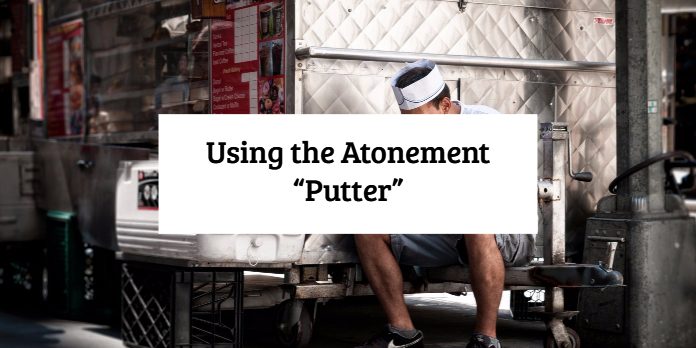 I am no expert on N. T. Wright's theology, but I know enough to reject those charges of his critics that he is weak on "the substitutionary atonement." Here is the clincher for me, from one of his meditations in The Crown and the Fire: "Jesus, the innocent one, was drawing on to himself the holy wrath of God against human sin in general, so that human sinners like you and me can find, as we look at the cross, that the load of sin and guilt we have been carrying is taken away from us."
To be sure, Wright has also been calling us to think more expansively about the atoning work of Christ. But he has never advocated doing away with substitution as an essential feature of Christ's redemptive mission.
The more expansive context is nicely captured by Scot McKnight's helpful golf clubs image. We need several clubs to play a good game of golf, McKnight observes, and the putter is one of many. But the putter is typically necessary to get the ball in the hole.
One of my colleagues responded to that image in a way that I found helpful. He pointed out that sometimes a golfer does make a hole-in-one, without the aid of a putter. And he observed that some folks in Young Life have reported that there are teenagers who have been brought to Christ by a strong emphasis on the Christus Victor theme. Kids into "Goth, " vampires, witchcraft and the like often respond most positively to the idea that the powers of evil have been conquered by Christ's encounter on the Cross with "the principalities and powers."
A point well taken. But still, holes-in-one are not common occurrences. Normally, the use of the putter is necessary. It's just one of the clubs, to be sure. But an important one.
Here's my worry about contemporary talk, especially among some younger evangelicals, about atonement theory. They rightly say that the atonement is more than substitution. But they often proceed then as if it were less than substitution.
I was at a conference a while back where a younger preacher said rather forcefully that he seldom mentions the substitutionary work of Christ anymore in his sermons. Instead, he talks about how Christ encountered "the Powers" of consumerism, militarism, racism, super-patriotism and the like. I left that conference troubled in my soul. I was driving a rental car to another city, and I turned on the radio which, as it happened, was tuned to "Christian radio." I was about to search for NPR when I decided to stay tuned to the recording of a man who was telling his story to a group of fellow business folks. I'm glad I listened.
The man told about a time when he was increasingly successful in his business dealings, while increasingly dissolute in his personal lifestyle: drinking heavily, unfaithful to his wife, distant from his children, his marriage headed toward divorce. His wife and daughters were active in church life, but he never attended.
One Saturday evening, after he had downed several martinis, his 10-year-old daughter came to him and pleaded with him to come to church the next morning—she was part of a singing group that would have a role in the service. He reluctantly agreed—something he greatly regretted the next morning when he awoke hung over. But to church he went.
In his testimony he then described what he heard for the first time in his life in the sermon that morning: that he was a guilty sinner who needed salvation, and that Jesus had taken his sin and guilt upon himself on the Cross of Calvary. Weeping, the man said, he pleaded with God to take away his burden of shame, and from that point on his life took a new direction.
I'm glad the preacher had a putter in his theological golf bag that morning. The other clubs are, to be sure, important. But this is the one that made all the difference on that occasion. I hear a lot of creative stuff these days about Christ's non-violent suffering, his incarnational love—again, all good and proper. But I find myself also listening for the theme that assures me that the whole story of atonement is being told: that I can say as a guilty sinner that "my sin, not in part, but the whole//is nailed to the Cross and I bear it no more."
10 Comments »
---

---

---

---

---

---

---

---

---