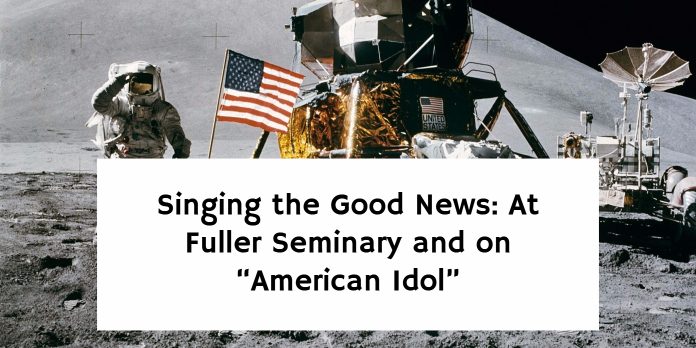 Last Wednesday evening (April 9), some 150 people gathered in Fuller Seminary's Travis Auditorium to sing old-time hymns. Young and old alike showed much enthusiasm in singing "Rescue the Perishing," "Just As I Am," "Pass Me Not, O Gentle Savior," and other hymns that have shaped both the worshiping life and the personal piety of many generations of Christians.
On that same night, a hymn of praise rang out in a very different venue and before a very different crowd. The American Idol producers broadcast an "Idol Gives Back" TV special on Fox, and the "top 8" performers ended the show with a rousing rendition of Darlene Zschech's "Shout to the Lord." That night, the group substituted "My Shepherd" for "My Jesus" in the opening line, but when they performed it again the next night on another American Idol show, they went back to "My Jesus." Both performances were witnessed not only by large studio and television audiences, but also by millions of others via You Tube and podcast. I suspect that many joined together with this group as they sang the words that are familiar to many present-day Christians. And the studio audience itself responded with applause, whistles and shouts, and even a shower of confetti, for the singing of a hymn of praise to the God of the Scriptures.
I regularly hear folks complaining that "the great Christian hymns" are from a bygone era, and are only available in worn songbooks, unopened hymnals, and outdated albums. Yet, thanks to last week's American Idol, we are reminded that today's Christian music also has an extraordinary ability to inspire us and bring us together as a worshiping community.
We focused this past week at Fuller on the influences of Christian music, with the help of keynote speaker Mark Noll, a gifted scholar, author, and history professor at the University of Notre Dame. With his theme "Then Sings My Soul: The Significance of Hymns for Evangelicals," Noll reviewed the influences of Christian music in the past three centuries. In his lectures, Noll described Christian hymnody's transformations, beginning with the early singing of psalms to Isaac Watts' publication of "Hymns and Spiritual Songs in 1707," which "gave bold voice to new expressions" in Christian belief. Another transformation, after the Civil War, resulted in "movements of spiritual renewal and piety in the midst of the challenges" of that era. This was reflected in a hymnody that included, for example, "the metaphor of nautical rescue." Noll went on to describe the transformation that began after World War II and continues to the present, when evangelicalism's music reflects, and is even driven by, the powerful influences of television, youth culture, and popular entertainment, as well as by the innovations generated by the Vietnam era, Jesus movement, the growth of Pentecostalism and the emergence of charismatic renewal.
I was reminded this past week of my deep personal gratitude for the work and faithful commitments of songwriters of past generations: Isaac Watts, Charles Wesley, Fanny Crosby, and many others. Those writers and composers made marvelous contributions to the faith. Yet, I was also reminded this week of my deep gratitude for Darlene Zschech, author of "Shout to the Lord," along with other current songwriters whose songs capture our hearts and point us toward a faithful Savior.
The Christian story continues to be sung!
6 Comments »
---

---

---

---

---