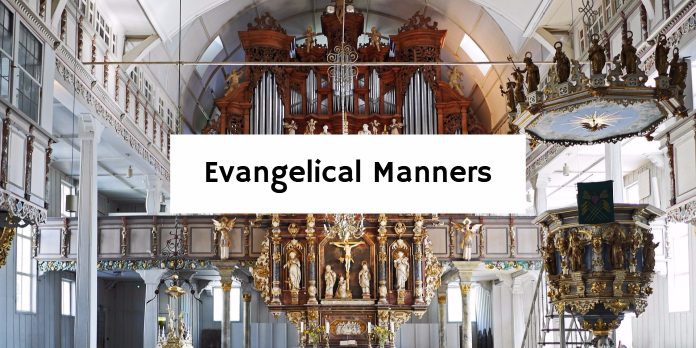 Recently I tried to get started on a book on "public manners for evangelicals." I have now decided, after several false starts, not to go ahead with it. I found myself simply repeating—but trying to use different words and examples–what I wrote fifteen years ago in my book, Uncommon Decency: Christian Civility in an Uncivil World–which InterVarsity Press graciously (with uncommon decency!) keeps in print. So I have concluded that I have nothing new–of a book-length sort–to say on the subject. I get irritated with authors who keep re-packaging the same basic book over and over again, so I have decided not to commit that sin myself.
But I do wish we could talk more as evangelicals about public manners, and specifically about practical ways in which we can be more civil people. Here is the kind of case that I have in mind.
I gave a talk to a good-sized audience on a large university campus, on the subject of civility. The folks who attended were mainly from campus ministry groups, many of them evangelical. There had been some controversy over "culture wars" issues on that campus in recent months, and they asked me to address questions about how we can best deal with public controversies in a Christian spirit. One point that I made with a special emphasis was the need to talk with our opponents face-to-face, whenever possible, before going public with our criticisms.
Afterward the leaders of one of the evangelical campus groups came up to talk with me. They told me how they had run ads in the campus newspaper, stating the evangelical understanding of sexual fidelity, with some mention of their opposition to same-sex relationships. One of the gay-lesbian groups had countered with an angry published response, and they had gone back and forth a bit, trading letters to the editor. "It has gotten a bit out of hand," they said. "Realistically, from your point of view, how should we have handled it differently?"
I told them that I thought they should have asked for a private meeting with the gay-lesbian leaders at the outset. They should have shown them the ads, and said, "We know you will disagree with our position, but we do want you to see this ahead of time. And if there is anything in here that you think seriously misrepresents your point of view, we want to know about it. We want to say what we believe, but we do not want to be needlessly offensive in doing so."
The evangelical leaders thanked me for my advice, and they told me they wished they would have done the kind of thing I proposed.
Several weeks later, I received a note from one of them. "We met with the leaders of the gay-lesbian group—we invited them to lunch, and they accepted," he reported. "We told them that we wish that we had contacted them privately before running our ad. We apologized for how we have typically gone about making our views known, and we asked their forgiveness. It started off awkward, but by the end of the conversation we were talking about other stuff, and then they said we should meet again, and the next time lunch was on them. I think we are on a new path—not compromising, but making our case in a kinder way!"
This group was learning good manners. Why is that so hard for Christians who talk so much about wanting to "reach people with the Gospel"? Why are we so afraid actually to "reach" out with an invitation to have lunch with folks with whom we disagree? Or maybe it is not so much that we are afraid, but that we don't even think about the need to do that kind of thing. Why not?
14 Comments »
---

---

---

---

---

---

---

---

---

---

---

---

---