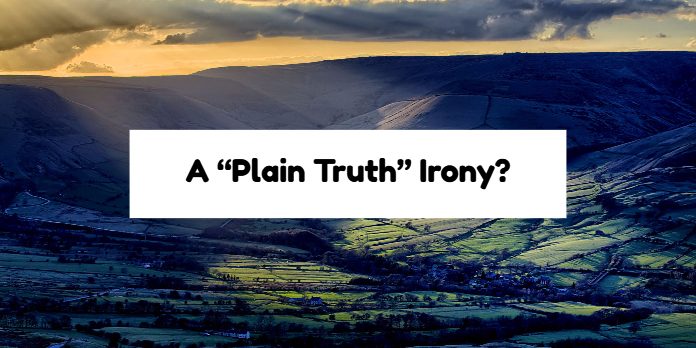 I have come to enjoy reading Plain Truth magazine these days. There was a time when I read it with very different expectations. I used to read it at airports, where it was often possible to pick up a free copy. Those were the days when the magazine set forth the views of Herbert W. Armstrong, whose teachings—for example, a "British Israel" perspective on world events, a denial of the Trinity, and a condemnation of the Christian churches—were well beyond the boundaries of biblical orthodoxy.
But things have changed during the past few decades. After Armstrong's death, those who assumed the leadership of the Worldwide Church of God re-thought their teachings and openly repented of the heretical teachings they had once espoused. They moved into the evangelical mainstream, joining the National Association of Evangelicals.
Plain Truth (now a member of the Evangelical Press Association) is a well-written and interesting magazine these days. The latest issue has a fine study of the fundamentalist mentality, as well as, among other articles, an interesting survey of some controversies within the ranks of the Jehovah's Witnesses.
I was taken aback, however, by a short box commentary accompanying the Jehovah's Witnesses piece. The writer observes that there has been a pattern in recent years of evangelicals engaging in friendly dialogues with groups that have long been viewed by evangelicals as non-Christian "cults." The Mormons in particular, he notes, have begun using more "Christian" terminology in describing their beliefs–which leads the writer to wonder whether some of us in the Christian world are "falling for a clever public relations ploy." He also observes that recently "[p]rominent evangelical leaders have apologized publicly to Mormons for misrepresenting their beliefs." (I wonder who he has in mind!) And then this concluding remark: "Perhaps such evangelical leaders believe that creating a friendly dialog with cultists will afford a better chance for the true gospel to penetrate cultic defenses. Is this true, or will Christians in the next century find themselves a minority in the shadow of groups formerly regarded as cultic? Time will tell."
He does leave the question open here, but with the implication that there is a real possibility that some of us are making a mistake in engaging in serious dialogue with folks who have long been considered cultic.
I see an irony in this sort of concern being raised in the pages of Plain Truth. There was a time in the late 1990s when the Worldwide Church of God, still considered a non-Christian cult at the time, approached Fuller Seminary with a request for us to allow a couple of their leaders to enroll in our theology classes. They were in the process of re-evaluating their teachings, they said, and they wanted the chance to do so under the guidance of evangelical scholars. We decided to grant them admission, even as we recognized the possibility that they would use their acceptability to Fuller as a way of giving credibility to what were still heretical doctrines. But we took the risk with them, and from all the evidence it looks like we made the right decision.
But I wonder why this expressed worry now about those of us who choose to engage in dialogue with "cultic" groups? And what is behind the warning that we may someday find ourselves "a minority in the shadow of groups formerly regarded as cultic"? Isn't that a bit odd coming from a magazine published by the Worldwide Church of God, a group that by its own testimony was once a cult?
Or maybe it isn't ironic. Maybe the Plain Truth folks are trying to tell us something.
No, that can't be–I have to put away that thought.
Anyway, as the writer himself concluded: "Time will tell."
16 Comments »
---

---

---

---

---

---

---

---

---

---

---

---

---

---

---