Here area few suplements which increase dramatically power outpu during working out Creatine Creatine can be found in some foods, mostly meat, eggs, and fish. Creatine supplementation confers a variety of health benefits and has neuroprotective and cardioprotective properties. It is often used by athletes to increase both power output and lean mass. 2. HMB […]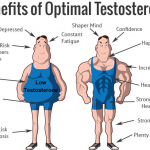 You can boost your testosterone levels and lower your body fat naturally with vitamins and herbs by taking vitamins and supplements, you can also... Dr. Green's Autoimmune Food Protocol The goal of eating this way is to promote change through the removal of foods that are,in any possible way,...