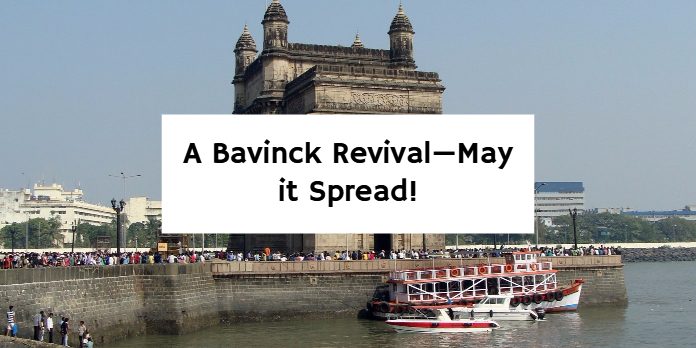 There is a Bavinck revival going on in some theological circles in North America. Well maybe not exactly a re-vival, since we would have had to have a "vival" at one time in order to "re-" it now. To be sure, Herman Bavinck has always been an honored name in the Dutch Calvinist community here. But up to now, only a small number of works by the 19th century theologian have been accessible by folks who could not read him in Dutch.
That has changed. A decade or so ago, a Bavinck Translation project was launched and now all four hefty volumes of his Reformed Dogmatics are available in English, published by Baker Books: Vol. 1, Prolegomena; Vol. 2, God and Creation; Vol. 3, Sin and Salvation in Christ; and Vol. 4, Holy Spirit, Church and New Creation. A smaller work, Essays on Religion, Science and Society, shows Bavinck's amazing breadth; he goes into impressive detail on, among other topics, evolutionary theory, the unconscious, adolescent development, political thought and aesthetics.
Bavinck was the younger colleague of Abraham Kuyper, and together they developed the perspective known today as "neo-Calvinism." Bavinck differed from Kuyper, however, in two important respects. One is that he stuck with a carefully pursued scholarly agenda. Kuyper was a public theologian without peer, engaging in theological reflection on-the-run, as the leader of a political party, a founder of a denomination, writing editorials in his newspapers, and the like. Bavinck, on the other hand, worked almost exclusively in an academic setting, first at a theological school in Kampen, and then at Amsterdam's Free University.
The second difference is more substantial. Bavinck's tone was more moderate, and he treated views with which he disagreed with much charity—unlike Kuyper, who often came across as a polemicist. Bavinck's kinder and gentler orthodoxy holds out much promise for us in North America, especially since his works are being assigned these days to students in a variety of seminaries on the more conservative end of the Reformed and Presbyterian communities.
Take his comments about Islam. He observes, in his Prolegomena volume, that "in the past the [Christian] study of religions was pursued exclusively in the interest of dogmatics and apologetics." This meant, he says, that Mohammed and others "were simply considered imposters, enemies of God, accomplices of the devil." Now that these perspectives are becoming "more precisely known," however, "this interpretation has proven to be untenable"—we do well to search for the ways, he insists, in which such perspectives display "an illumination by the Logos, a working of God's Spirit."
And here he is, in a little book, The Certainty of Faith, on the "works righteousness" associated in Calvinist minds with Catholicism:
[W]e must remind ourselves that the Catholic righteousness by good works is vastly preferable to a protestant righteousness by good doctrine. At least righteousness by good works benefits one's neighbor, whereas righteousness by good doctrine only produces lovelessness and pride. Furthermore, we must not blind ourselves to the tremendous faith, genuine repentence, complete surrender and the fervent love for God and neighbor evident in the lives and work of many Catholic Christians. The Christian life is so rich that it develops its full glory not just in a single form or within the walls of one church.
Quite a friendly tone, for a Calvinist writing six decades before the reforms of Vatican II.
Indeed, wise thoughts all. If that way of being "orthodox Reformed" were to take hold here in North America, we might have a real revival on our hands!
12 Comments »
---

---

---

---

---

---

---

---

---

---

---