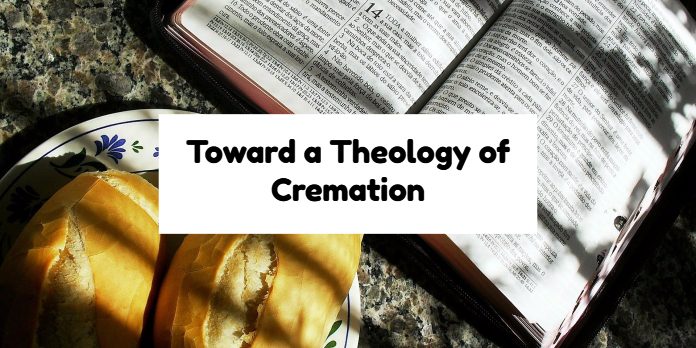 Someone wrote recently to ask me for my views about cremation. This is the second time I have been asked about this in the past six months. In each case the person requesting my thoughts was not sure that cremation was a proper practice for Christians, and the expectation was that I would provide a theological rationale for opposing the practice. I had to disappoint them.
Both of my parents were cremated. They were devout evangelical Christians, and I have wondered whether they had thought about their plan in theological terms. My guess is that it was for them a pragmatic decision based on economic considerations. But having thought about it theologically myself, I have no serious problems with the decision they made.
This much is clear: cremation poses no serious obstacles to the God who has promised to raise them up when the trumpet sounds to signal that Resurrection Day has arrived. My parents will certainly be as "resurrect-able" as their parents and grandparents, all of whom were buried without cremation. We don't have to go into the graphic details to make the point that, given what the Lord will have on hand to work with, the raising up with glorified bodies of those who have died in Christ will take a miracle in every case, cremation or no cremation.
I can imagine someone asking, however, whether deciding to be cremated isn't a kind of in-your-face gesture toward God, a way of saying to the Almighty, "See if you can make a glorified body out of this!" And it may well be that some unbelievers have chosen cremation precisely in that kind of bravado spirit. For a believer, on the other hand, choosing cremation can be a special act of faith, an acknowledgement that our only hope for the afterlife rests on the sheer promise by a sovereign God that we will be raised up on the Last Day.
Indeed, I like to think of choosing cremation as a way of expressing our solidarity with the great martyrs in church history who have willingly presented their bodies for burning at the stake rather than deny their deepest convictions. The ones who were subject to that mode of dying for the faith are included in that number described by the Apostle John in Revelation 6:9-11: "I saw under the altar the souls of those who had been slaughtered for the word of God and for the testimony they had given; they cried out with a loud voice, 'Sovereign Lord, holy and true, how long will it be before you judge and avenge our blood on the inhabitants of the earth?' They were each given a white robe and told to rest a little longer, until the number would be complete both of their fellow-servants and of their brothers and sisters, who were soon to be killed as they themselves had been killed."
Not a bad group to look forward to joining!
8 Comments »
---

---

---

---

---

---

---