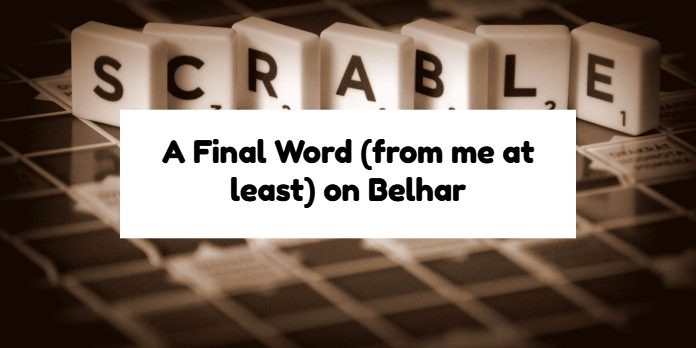 Some of my friends in at least three Reformed/Presbyterian denominations are upset with me because of previous my blog postings on the Belhar Confession. In a couple of cases, local ecclesiastical bodies are voting right around now whether to validate national decisions to add Belhar to their books of confessional documents. I have said in the past that I don't think this is a good idea, for at least three reasons. One is that some folks have seen Belhar, which had its origins in South Africa as an important theological word against apartheid, as now serving the cause of promoting same-sex ordinations and unions. A second is that I do not find Belhar sufficiently explicit in grounding its important message in biblical authority. And the third is that I worry about an ongoing confessional drift in those denominations, and wonder how adding yet another confessional document will mean anything important where there is already widespread ignorance of—and in some cases overt hostility toward—specific teachings in the existing confessional documents.
My concerned friends in both the Reformed and Christian Reformed denominations have set my mind at ease on the first point—they insist that passing Belhar will be done with the explicit acknowledgement that it will not provide a basis for changing their denominations' present standards regarding same-sex questions. It would be nice to get that same reassurance from the mainline Presbyterian body in which I am now a member.
While my friends acknowledge some legitimacy to my other two objections, they do not think that those concerns should be used to oppose adoption of the Belhar Confession. While I am not fully convinced by their assurances, I do have to say that I am comforted in knowing that there are defenders of adopting Belhar who share my concerns about biblical fidelity and confessional integrity. No one should take my views as implying that the issue is simply "liberal" versus "conservative." There are those of us on both sides of the Belhar issue who care deeply about both the confessional drift in the churches and the continuing presence of racism and ethnocentrism. What I worry most about is that this group—however we may differ among ourselves on the question of adopting Belhar—is in a minority.
Adopting Belhar as a new confessional document in North American Reformed and Presbyterian denominations would not be a disaster. What would be worrisome is if this is done without realizing that these denominations are in a confessional crisis, where key doctrines of the Christian faith in general, and Reformed theology in particular, are being openly denied. I am glad that my pro-Belhar friends are assuring me that Belhar will not be used to promote the same-sex cause. I would be even more gratified if they accompany their support of Belhar as a way of calling for new attention in their denominatons to the question of what it means to be faithful to all of the confessional documents.
6 Comments »
---

---

---

---

---