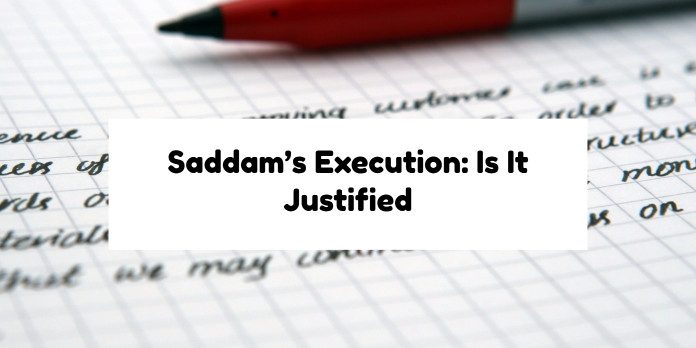 I saw the news channels' tape of Saddam Hussein's execution, and I have to confess that I also sought out the grainy clandestine online version, with the shuffling and shouting. Brian McLaren's comment captures my response exactly. It is hard not to "feel dirty" about witnessing the spectacle.
But I must also confess that I have not been able simply to join the chorus of Christian leaders and groups who have firmly condemned the execution. This has to do in part with the fact that I find it difficult to line up with standard positions on capital punishment. Basically, I oppose capital punishment, but for reasons that differ from those of most other Christian opponents. I really do believe that people who commit terrible crimes deserve the worst sort of punishment. For me, it isn't that putting people to death is too severe–it is not severe enough.
I was in a meeting the other day where we sang an oldie that I have not sung in years, "Rock of Ages." These words from that hymn fit my theology perfectly: "Could my zeal no respite know, could my tears forever flow, all for sin could not atone, thou must save and thou alone!" Even being put to death cannot satisfy the demands of God's justice. I can do nothing to atone for my own sins, and neither could Saddam Hussein. In short, it isn't that capital punishment is too much. It is not enough. In being put to death, Saddam did not "pay the debt" for his crimes.
This gets reinforced for me by adding another theological point: the fact of our finitude. We are not God, and it is easy for us to make mistakes. This is all too obvious in the history of actual executions. Innocent people have been put to death, and guilty people have gone free.
Having said all of that, I have to admit also that I continue to have some ambivalence about the execution of Saddam. There are some people whose crimes are so horrible that I am inclined to think that the world is better off without their continuing presence.
Suppose, for example, that Hitler had survived and been imprisoned for these many decades. His very presence, I suspect, would have created a more energetic "neo-Nazi" craziness that what we have in fact had. And the fact that he was still alive would, I also suspect, have caused even more intense grief and despair than what Holocaust survivors and the kinfolk of Holocaust victims have in fact experienced. For such people, a world without Hitler is much better than a world in which Hitler–however secure his captivity–is still a living presence.
I suspect that similar thoughts can be raised about Saddam. He did unimaginably evil things to thousands of people. They deserve to have a sense of closure in dealing with these horrors.
To be sure, none of that may be compelling enough to justify his execution. All I want to suggest is that these thoughts–about the impact of his death on folks who have suffered in terrible ways because of his evil deeds–these thoughts are not morally or theologically off-the-wall. Yes, Brian McLaren's point fits my experience: I feel dirty about what I saw in the tapes of Saddam's final moments. But I have to admit it: I am glad–for the sake of thousands of people who suffered at his hands–that he is gone.
11 Comments »
---

---

---

---

---

---

---

---

---

---