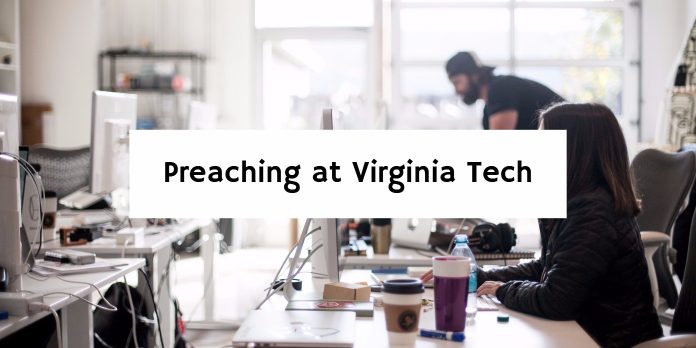 The Chronicle of Higher Education came up with an interesting creative experiment in response to the Virginia Tech tragedy. The editors asked eleven academic leaders to imagine what would be "the core of the message" they would give if asked to be the commencement speaker this year at Virginia Tech. The results, published in the May 4 issue, give a good picture of how the present day academy deals with the fundamental issues of life.
While all of the writers make reference, of course, to the tragic circumstances, most of them use the occasion to rehearse themes that are standard fare of what we might think of as the "secular spirituality" on today's campuses. Use this experience to cultivate empathy and solidarity with people around the world who are suffering in special ways. Promote non-violence. Don't let tragedy define who you are. Don't give in to fear and hatred. Promote multiculturalism.
With only one exception, the writers do not point to any resources beyond those that reside in the human spirit. The most blatantly "postmodern" preachment comes from the novelist Lionel Shriver. She acknowledges that the graduates may come away from this experience with a "leeriness" about other people, especially a distrust of "the strange, the suspiciously quiet" types in their midst. That posture of suspicion, she insists, can serve them well in life. But it will be most productive, she urges, if it is directed, not primarily toward others, but instead is directed inward. "Question your certitudes," she proclaims. "Never forget that the more fiercely you believe a thing, the more likely it is that you are wrong."
To be sure, Christians ought to worry about some of the same patterns of certitude that bother Ms. Shriver. She rightly acknowledges the threat posed by people whose lack of self-criticism fosters a spirit of "vengefulness, envy, grandiosity, self-righteousness" and the like. But from a biblical perspective those things are to be avoided, not by giving up on certitude as such, but by cultivating a sure and abiding trust in a God before whom we must constantly plead, "Search me and know my heart,…and see if there is any wicked way in me" (Ps. 139).
The one person who did point to the ways of God in his address is the psychiatrist Robert Coles. He tells a moving story about a 12-year-old girl who had been severely injured when hit by a car driven by a drunken driver. She struggled with a spirit of vengeance, but was able to draw on a her Christian faith to resist hating the person who had caused her great pain.
The Chronicle's editors placed Coles's contribution at the end of this set of imaginary homilies. So he got to say the last word to the graduates. And it was the right word: "May the good Lord bless all of you, all of us here in this strong and generous nation we are lucky to call our own."
6 Comments »
---

---

---

---

---