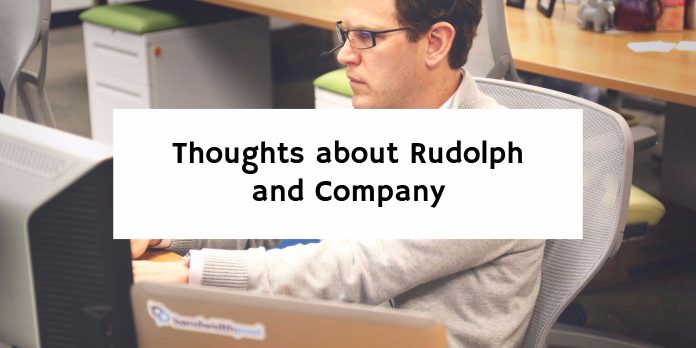 Gene Autry's rendition of "Rudolph the Red-Nosed Reindeer" was a hot item when it was released for the Christmas season in 1949. One of my aunts bought me a "45" record of it, and I played it so much my parents threatened to throw it away. By now I have long gotten tired of hearing it. But I have engaged in a bit of theological reflection on the Rudolph message.
Rudolph "came unto his own and his own received him not." He was "despised and rejected" by his peers. In a dramatic turnaround, however, he came to be seen by those who had mocked him as the only one who could provide the light that would guide them on their journey.
Stretching it a bit theologically? Of course. But we would do well to think about the ways in which the narratives of the non-Christian icons of our major Holy Days do in some sense mirror elements of the Gospel story. Santa and the Easter Bunny are obvious cases in point. Santa descends from above bearing gifts—although he also has been known to issue a word of judgment on the naughty ones. The Easter Bunny comes up out of the ground bearing eggs—the vessels of new life. Instead of simply condemning Santa and the Bunny, we might see them as symbols of deep human yearnings that find their only genuine fulfillment in the real events that we celebrate on Christmas and Easter.
I think I understand some of the Rudolph story's appeal to kids. It is not unlike the Ugly Duckling tale. The rejected one—the object of ridicule—is transformed into the hero whom everyone admires. Any kid who has spent any time on a school playground has hoped for that kind of thing to happen in his or her life.
There is one issue about Rudolph, however, that I have never heard anyone else raise, so I will name it here. How could that glowing red nose provide enough illumination to guide a team of reindeer on a foggy night? The truth is that Rudolph was not really capable of lighting the way.
Nor is Santa capable of bringing the gifts that truly satisfy us. Nor can the Easter Bunny deliver on the promise of bringing new life out of the deep places.
Not that these non-Christian icons deserve simply to be condemned. Maybe it's time to treat them as conversation starters for the telling of story about the One who alone is the true Light—the One whose birth in Bethlehem was indeed "the dawn of redeeming grace."
5 Comments »
---

---

---

---