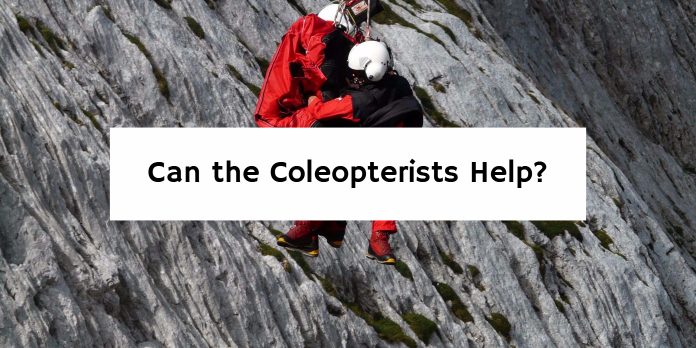 At a student party during my graduate school days, I had a fascinating discussion with a coleopterist. He did not use that label to describe himself in our conversation; he simply identified himself as a doctoral student in the field of entomology. But recently I read an article in the Los Angeles Times that informed me that a coleopterist is an entomologist who is devoted specifically to the study of beetles. And the world of beetles is what we talked about at that party.
The focus of this student's doctoral research, he told me, was the beetle community that lived in a specific region of the Canadian Rockies. Indeed, he was interested only in the beetles that occupied the eastern and western slopes of one particular mountain. By every physical characteristic he could identify, he said, the eastern slope beetles were indistinguishable from the western slope habitants. There was only one problem: no matter what he and his research colleagues did, they could not get an eastern slope beetle to mate with one from the western slope. In other cases, groups of beetles with the same physical characteristics mated freely, even if they came from communities that resided at a considerable distance from each other. But these two beetle groups lived only a few miles apart—yet no sexual attraction. It was hard to avoid a social explanation, he said; it looked for all the world like the territorial difference had generated some sort of mutual hostility. But, he quickly added, the entomologists who study beetles—those folks that I now know go by the label coleopterists—were not very attracted to social explanations when it comes to beetles.
That conversation took place several decades ago. From time to time I have wondered whether he solved the puzzle of why the two groups of beetle kinfolk rejected each other. My guess is that some coleopterist has come up with a convincing explanation by now.
If the mystery has been resolved, I doubt very much that the answer came in the form of a social-psychological explanation. If so, though, I wonder whether it casts any light on parallel kinds of issues that occur in the human community.
I grew up in an extended family that was divided church-wise between two Dutch Reformed denominations. My grandmother switched from one to the other when she married my grandfather. In making the switch, she experienced no change in her theology or pattern of worship. But her birth family saw her as having crossed a wide divide—and the tensions never completely disappeared. To be sure, there were some small differences between the two groups over some issues. But the way in which those issues were taken to be matters of deep division would puzzle an outsider, even someone fairly familiar with Reformed thought and practice.
In my ecclesiastical travels I have seen similar patterns in other theological-denominational settings: Parents who come close to disowning their daughter because she left their Wisconsin-Synod Lutheran denomination to marry a husband from the Missouri-Synod Lutherans. Baptists who see another group of Baptists as their worst enemies. Wesleyan versus Wesleyan, Orthodox versus Orthodox, Mennonite versus Mennonite.
The Freudians have a label for this kind of thing: "the narcissism of minor differences"—where two individuals or groups are so close to each other that what are in reality rather small differences between them become very large in their imaginations. But, of course, the label doesn't really explain anything. It is just another way of pointing to a puzzling pattern.
Maybe it is time for a dialogue on the subject between theologians and coleopterists!
8 Comments »
---

---

---

---

---

---