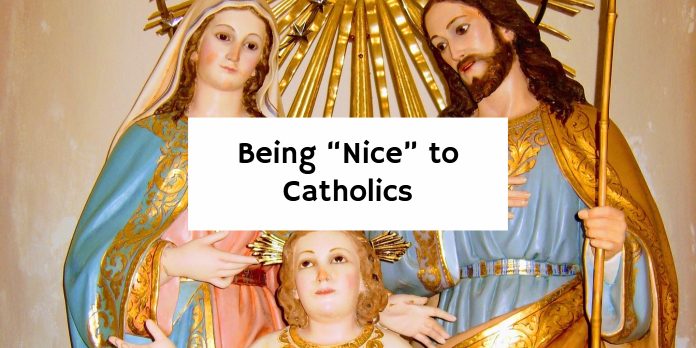 Back in 1994 I joined a number of other evangelicals in endorsing a document called "Evangelicals and Catholics Together." It was a good group with whom to be associated; it included Father Richard Neuhaus and Father (now Cardinal) Avery Dulles on the Catholic side and Bill Bright, Chuck Colson, and J. I. Packer from the evangelical camp. The group has issued some other documents since, and when I have been asked to sign on I have eagerly agreed.
The anti-Catholic crowd in the evangelical world continues to try to get some mileage out of this phenomenon by posting blogs that list the names of those of us who are viewed as culprits who are willing to betray the evangelical cause by trying to be "nice" to Catholics. We are even at times identified as allies of the Anti-Christ.
As my own small contribution to keeping the polemics going, I want to rehearse here two items that I have written about on other occasions, just to keep reminding the critics that those of us who have promoted friendlier relations with Catholics have a pretty good evangelical pedigree.
My first appeal is to the example of the great American evangelist Dwight L. Moody, who in 1875 received a letter from a Catholic monk in Wales. "I must send you one word of affectionate greetings in our Precious Redeemer's name," the monk wrote, "to say how rejoiced I am to hear and read of your powerful gifts from 'The Father of Lights.'" The monk went on to assure Moody that while his community engaged in "the perpetual adoration of the Holy Sacrament"—a practice that he knew would make the evangelist nervous—he and his fellow monks also preached "Jesus only as perfect, finished, and present salvation to all who are willing to receive Him. And the only work of the evangelist is to give knowledge of salvation to His people."
Moody was pleased to receive this letter; he seemed to have no doubt that the prayers of these monks were offered up by fellow Christians who had a deep commitment to the cause of the gospel. Indeed, as Lyle Dorsett reports in his biography of Moody, while living in New England, the evangelist even made a personal contribution to the building fund in a local Catholic parish.
My other authority is J. Gresham Machen, certainly never one to gloss over important theological differences. In his 1923 book Christianity and Liberalism, surely one of the classics of American evangelical thought, Machen wrote:
How great is the common heritage which unites the Roman Catholic Church, with its maintenance of the authority of Holy Scripture and with its acceptance of the great early creeds, to devout Protestants today! We would not indeed obscure the difference which divides us from Rome. The gulf is indeed profound. But profound as it is, it seems almost trifling compared to the abyss which stands between us and many ministers of our own Church.
Both of these reachings-out to Roman Catholics took place well before the reforms of the Second Vatican Council in the 1960s. I can't imagine that Moody and Machen would take a harder line on the subject today.
5 Comments »
---

---

---

---